Blood vessel biology - in development, physiology and disease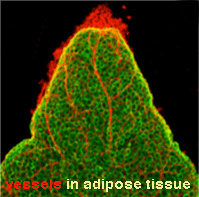 Since the mid 90's, our laboratory has been interested in the role of the Vascular Endothelial Growth Factor (VEGF). We have genereated several mutations, including a null, an over and an underexpressor hyper- and hypomorphic allele.
These studies have become part of the foundation for cancer therapies targeting the development of vessels in solid tumours, several of which are already in clinical trials. Currently, we are investigating the role of VEGF in normal physiological processes and in the complexity of the body's reaction to systemic suppression of VEGF signaling.
We are also developeing a new generation of biologics targetting VEGF at the disease area, while avoiding adverse systemic effects on generalized essential physiological functions.